TORONTO'S MOST TRUSTED DESTINATION FOR PERFECT BROWS AND LASHES
We are dedicated to providing you with top-notch services for all your lash and brow needs. As the leading establishment in Toronto, we take immense pride in our reputation for delivering exceptional results. Our team of certified lash and brow technicians are equipped with the expertise to work wonders, leaving you with perfectly symmetrical and balanced brows and lashes.
No matter what you desire, our wide range of services has got you covered. From brow waxing, threading, lamination, to lash lifts and extensions, we offer everything you need to enhance your natural beauty.
Your journey with us starts with a personalized consultation, where we take the time to understand your desired look. Once we've discussed your vision, our magical skills come into play. As you recline in our comfortable studio chair, our expert technicians will meticulously transform your brows and lashes, ensuring every stroke is executed with precision and care. In fact, we encourage you to relax and even take a well-deserved nap during the process.
BOOK YOUR APPOINTMENT NOW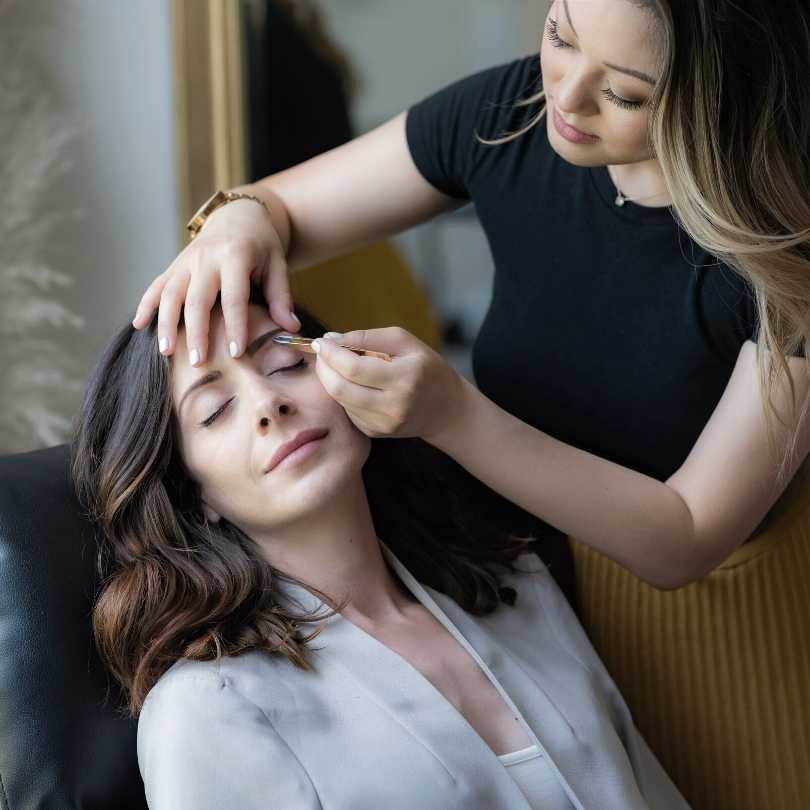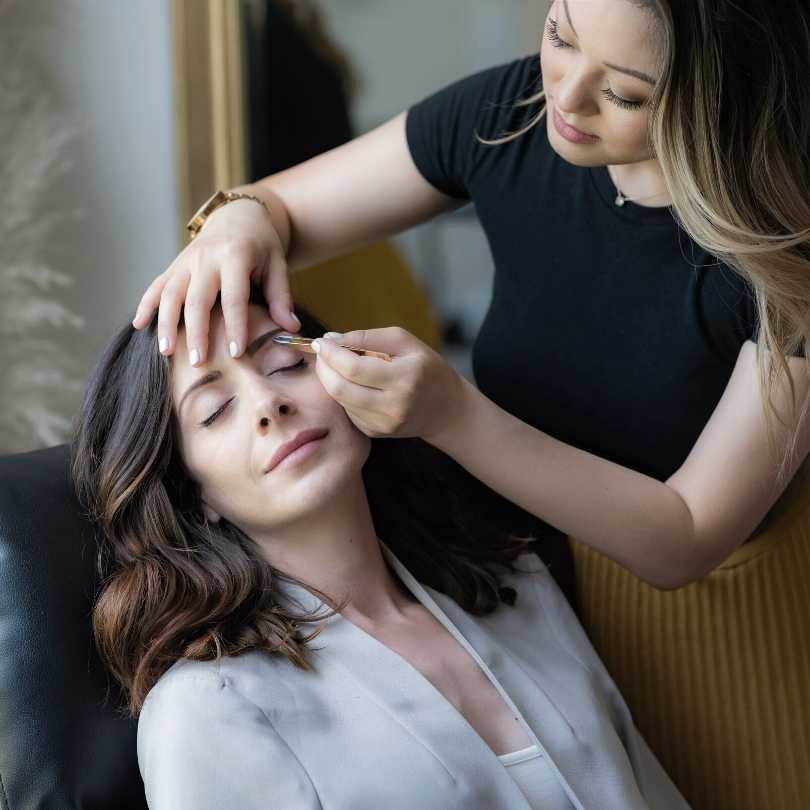 THE ALL-IN-ONE PACKAGE
Enhance your eyes with our Keratin Lash Lift and Tint service that will be sure to make open up your eyes and make them pop.
This package also includes a Sculpted Brow treatment that incorporates brow shaping, tint/henna, and brow lamination.
Get ready for a complete brow and lash transformation!
$250
BOOK NOW
LASH LIFTS
Ditch your curler for good!
With a lash lift, you can achieve a beautiful curl that lasts for 6 to 10 weeks.
Whether you prefer a subtle or doll-eye look, a lash lift can give you the illusion of longer lashes, even if your natural lashes are pin-straight.
Perfect for everyone, including those with sensitive eyes or shorter lashes, our lash lifts are done using the best products such as Inlei, Yumi, and Amica to ensure your lashes stay healthy time and time again.
BOOK NOW
Get the perfect curl for your lashes using specialized silicone pads and gentle perm solutions that lift and shape every lash, resulting in a beautifully natural curl.
$95+
With Tint $120+
A Keratin Lash Lift not only enhances the appearance of your lashes, but also provides a strengthening treatment. The gentle lift solution used ensures a more delicate processing.
$130+
With Tint $155+
As your lashes grow, you may see kinkiness or bends from where we lifted them a few weeks ago. A touch-up will smooth them out so you can enjoy your lift for a few more weeks.
Please note: We offer this service on a case-by-case basis depending on the state of your lashes. We only do touch-ups on Lash Lifts done by us, no more than 4 weeks after the treatment and if you're still happy with the curl.
$28
Give your lashes a natural tint and skip the mascara. A lash tint lasts between 2 to 3 weeks, making it a must-have for vacations.
$30
I strongly recommend Beauty room! The staff are very friendly and always make sure you're satisfied, the place is well organized with a relaxing atmosphere. I've been there to get my eyebrows threaded with Taslima. I loved the results, my eyebrows look very natural and shaped. She made sure to understand what I was looking for and she nailed it. This will be definitely my place to go from now on.
"Amazing results, 10/10 experience, you won't regret getting a lash lift here."
"I had a lash lift and tint with Sushma and the whole process was wonderful!"
"BEST LIFTS IN THE GTA FOR SURE!!!"
I go to Beauty Room regularly for eyebrow waxing & shaping and I always leave extremely happy with the results and service!
LASH EXTENSIONS
Natural, full, fluffy, or extra volume lashes - the choice is yours!
Lash extensions allow you to achieve a stunning look effortlessly. Gone are the days of using mascara or dealing with uncomfortable falsies! Our lash artist will customize your lashes to give you the perfect amount of volume and length, while taking into account your eyes, lifestyle, and overall desired look.
BOOK NOW
Unlimited Lashes full coverage.
$155
A blend of 2D-5D volume and classic
$220
These are the thickest longest lashes you can get. Dramatic wispy, up to 12D.
$250
BROWS
Tidy-up or a complete brow transformation?
Whether you're looking for a simple clean-up or a beautifully sculpted pair of brows, we offer a range of services that can cater to your needs. Enhance your look with a touch of color and lamination for added fullness and definition.
BOOK NOW
The all-inclusive brow treatment. We start by shaping your brows according to your shape and face structure. Then, we finish with a brow colour, and lamination for full brows you don't have to fill in.
$135+
We shape your brows, removing only what you want.
$26+
Add definition to your brows with hybrid tint or henna, the best option if you're not quite ready for something as permanent as powdered or nano brows. With proper care, the results can last up to 2 weeks on the skin and six weeks on the hair.
$55+
Full and fluffy brows using what you have, even if they're from the 90s! With a lamination treatment, we realign the directional growth to enhance your brow shape.
$65+